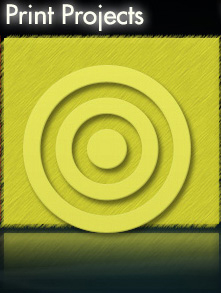 Online Printing
The print industry is competetive and we can help you save a lot of money. Our price calculator is available online 24/7 – so compare them with your current printer's. Automation advances in placing web orders, and sophisticated pre-press and printing technologies have reduced printing costs. We provide the best source for reasonably priced, very high-quality printing with quick turnarounds and an almost overwhelming number of options (paper weights, sizes, coatings, and finishing). For assistance ordering standard 4-color projects. Whether you need digital, offset or large format, we offer the largest selection of print products on the web! Visit Printing Advantage.
Design & Pre-press
Using Adobe InDesign, PhotoShop, and Illustrator, we design hundreds of pieces. The trend is to create layouts that are being shared digitally as pdfs – but many layouts are still printed. We started designing with digital page layout programs in the beginning of the 'desktop publishing' revolution in 1987 and know how to prepare files to print properly. We have grown with the industry and software, and emphasize customer service and value to our clients.
Paul Raybould – 30 years of digital innovation/design

I started a digital marketing and business communication firm in 1987 on a Macintosh computer. In addition to providing digitally designed flyers, brochures, newsletters and presentations, I loved being on the 'bleeding edge' of technology. What was learned was applied to my own business, but there were opportunities to teach, mentor, and consult regularly to transition companies to time-and-money saving digital workflows.
In 1989 I brought digitally produced film for a 44-page catalog to Dean Somers at PrintArt. This was the first time they received film from a digital source. He could not guarantee the results. I later took part in a ComputerLand business expo where Dean and Lou Barone saw my demonstration of typesetting and decided to computerize.
Printing Advantage offers web-accessible digital innovations in pre-press, order processing, printing and finishing. I own the site in cooperation with a technologically advanced printer with locations in South Jersey, Kentucky and California. 
The site allows you to order online 24/7 and receive instant price quotes.
Dean Somers – 50+ years in the printing business

I have worked in Letterpress, Offset, Web and Digital Print Shops. Using my experience and printing knowledge, I can help you purchase quality printing in a convenient, economical way.
20 years – 1996 – 2016 – Omega High-Impact Print Solutions (formerly PrintArt) – Planning and estimating Print Jobs.
1 year – 1995 – 1996 – Paper Mart – Assistant to the Vice-President.
8 years – 1987 – 1995 – Print Art – As computers took over most of the printing trade, I became a Customer Service Representative.
2 years – 1985 – 1987 – Packard Press – Operated an Opti-Copy Camera. Stripped negatives burnt printing plates for Web Presses.  This company moved their printing plant to North Jersey, I did not relocate to North Jersey.
20 years – 1965 – 1985 – Print Art  – Began in Printing as a commercial artist, learned how to shoot and tray develop film to make line negatives and halftone negatives in a red light darkroom. Shot and tray developed color separated negatives with pre-angled screens, this was done in a total darkness darkroom, using a timer to know when film was developed. Stripped negatives burnt offset printing plates and set hand type.